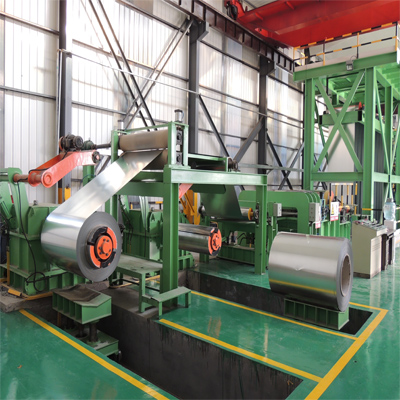 The uncoiler in color coating line is also called decoiler, Pay off real, uncoiling machine, unwinder, unwinding coiler etc.. It is applied to line production for steel, aluminium and copper alloy mostly, such as cold/hot rolling mill, continuous pickling line, continuous galvanizing line, annealing line, slitting line, cut to length line , color coating line and so on.
In the color coating line, it equipped with two set single uncoiler or double-heads uncoiler at the entry of whole line to hold the coil on the mandrel. when the mandrel expands and rotates, the uncoiler tightens the coil and unwinds the strip to the next equipment. it feed the strip continuous during the line operation.
Uncoilers are available with a variety of customized features, however the standard features available with uncoilers are 12″ traversing base, outboard coil retainers, speed funnels, shearwelders and accumulators, hold down arms and snubbers, feed-up and rewinders, powered hydraulic rotation system, hydraulic expansion, manual/hydraulic expansion of mandrel, wedge/link type expansion, AC variable speed drives, hydraulic threading drives, quick release narrow coil keepers, loop controls alloy steel main shaft, 4-segment drum, coil joining, 0.500″ thick steel back plate, large air brakes, hydraulic cylinders for drum expansion, and 2 slots per back plate for "C" hook loading.
Technical parameters:
| | |
| --- | --- |
| Outlet diameter of steel roll | Maximum of Φ1500mm |
| Inner diameter of steel roll | Minimum of Φ508mm |
| Width of steel roll | 200-1700mm |
| Maximum steel roll weight | 3-25 t |
| Mandrel and pull rod | 40Cr |
| valve | Cast steel |
| Main sliding block | Casting aluminum brass |
| Retracting size | Diameter of 450mm |
| Expanding size | Diameter of 508mm |
| Rubber sleeve | Thickness of 51mm |
| Expanding and retracting actuator | One rotating hydraulic cylinder |
We could design and manufacture according to specific need, the uncoiler available include uncoiler-decoiler with capacities ranging from 3 tons to 21 tons and width range of 200mm to 1700mm.