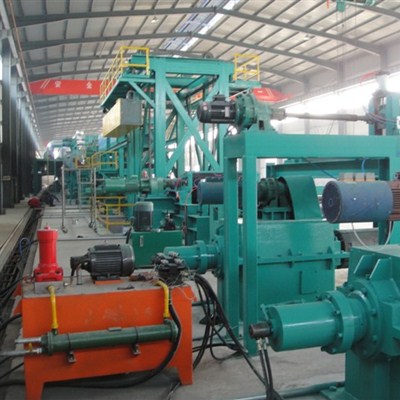 Steel sheets color coating continuous production line
Steel sheets color coating lines are well-known for their beautiful color change, optimized line configuration, easy accommodation of product. The processed substrates can be uncoated carbon steel, hot-dip or electrolytic galvanized steel, hop dip Al-Zn coil, cold-rolled steel coil etc..
Advanced coating technology:
The equipment has advanced continuous roller coating process with extremely precise and reliable back-up roll coaters. you just set the rolls to the thickness you require then you can change color simply.
The coating machine head is driven by the hydraulic or air cylinder. you can use the hydraulic quick retraction mode to open and close the coating rolls within two seconds to allow the strip joint to pass through. and the pressure sensor to display the pressure of coating roller to precisely control the coating evenness and the thickness of coating to be within 1 micrometer.
Our company can supply integrated cover-coating and back-coating machine, Two-roller precise coating machine and Four-roller precise coating machine.
Electrical Transmission System
Thee electrical transmission system mainly includes automatic control system, AC transmission system, AC variable-frequency transmission system and so on. the whole product line is set with PLC control system. The system can use Siemens system, Yaskawa system and Siemens-Yaskawa mixed system.
There is a common principle behind color coating lines: solvents are evaporated to cross-link the varnish molecules and cure the varnish. the product just about used to empty the waste gas and apply the heat released to heating. so you can operate the post-combustion system without any additional energy supply.