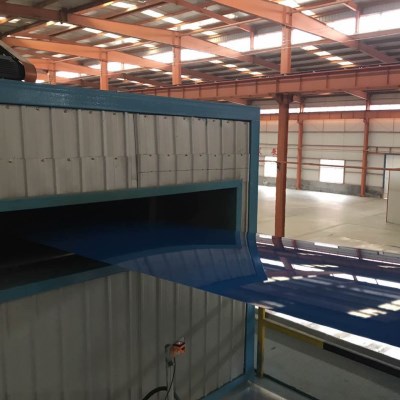 Pre-coated steel sheet line
GEIT electric equipment factory is widely known as a leading manufacturer of high standard pre-coated steel sheet line, aluminium color coating line, color coating and printing line and functional metal coating line in past years. We thrive to achieve industry prominence as a pre-coated specialist by combining our professional knowledge, rich experience and vast resources to offer the finest integrated and cost-effective processing solutions.
Characteristic:
1. Fine surface pre-treatment:
Make the steel coil strips be subject to surface degrasing, parkersing and passivating treatment to enhance the adhesive force between the steel sheets and coating layer.
2. Precisely coating method:
Cause of our pre-coated steel sheet line adopts double coated and double drying roller coating process, the pre-coated steel sheets have the excellent corrosion and weather resistance, durability, high tensity and good machinability.
3. Environmental protection solution:
The oven equipped with catalytic incineration device as well as waste heat recycling device, which reach energy-saving and cost reduction effect.
Adopts Electric Transmission System, the whole control system adopts PLC control.
Application:
The Pre-coated steel sheet is widely used in the construction industry , for example, it is used at:
1.Roofing and wall cladding
2.Automotive
3.Building products
4.Roofing tiles
5.Appliance
 Characteristics